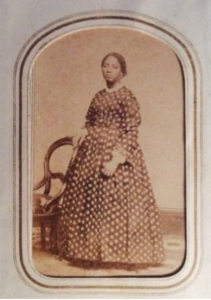 16 December 1814 – 5 February 1888
The Underground Railroad (UGRR) had a strong foundation in New Bedford. We may never know how many freedom seekers were secretly sheltered at the Jackson home, but we do know that Jane and her husband, the Reverend William Jackson, made freedom possible for many who had escaped. 
Jane Major's parents, George and Annis Major, were of coastal Virginia. Jane met William Jackson, born a freeman of color at the Philadelphia, Baptist Church. He had a passionate determination to become a minister. Jane, age 22, and William, age 18, married in Philadelphia on May 25, 1837. William was called as the fifth minister of the African Baptist Church of Blockley Township, Pennsylvania. 
When William was called to be the pastor of New Bedford's Second Baptist Church from 1851-52, Jane remained in Philadelphia to care for their children three of whom were ill. They were the parents of five sons and four daughters. But tragically between the 1840s and the mid-1850s the family grieved the deaths of six of their nine children.    
In 1853 their son Edgar was born. Jane, her infant son, and their two surviving daughters, Emma, and Mary, moved to New Bedford to join William. There she reunited with family members and met numerous social activists and abolitionists. New Bedford City Directory has the Jackson family at Cedar. By 1858 the family lived on Smith Street, where they sheltered fugitives.   
As the Civil War loomed, the possibility of men of color joining the Union forces became a reality. Jane's husband joined the Union Army in 1863 as "chaplain" of the 55th Massachusetts Regiment. In the fight against slavery, Jane, and other women relatives of the New Bedford colored regiments rallied by raising funds, giving aid, sewing and assisting the soldiers' families. Jane was one of the founders of a community sewing circle in New Bedford, circa 1860. It was later named The Jane Jackson Sewing circle. Their first meeting was in the home of Ezra and Emma Johnson and the members included 'Mrs. Sarah Carter Woodlin, Mrs. Nellie Johnson Backman, Miss Daisy Cole, Mrs. Josephine Carter Smith, Mrs. Emma Handy Wright, Miss Mary Alice Jackson, and Mrs. Love Curtis Chamberlain.
Jane was an activist but did not live to see her sewing group become the Eleventh Auxiliary Sewing group of the Grand Army of the Republic circa 1900. She collapsed on February 5, 1888 while walking through a snowstorm to church. She never regained consciousness. She is buried in New Bedford's Oak Grove Cemetery. 
The Jacksons' great-great-granddaughter Valerie Craigwell White came to New Bedford in 2018 to celebrate the 200th Anniversary of Reverend William Jackson birthday. 
Ivy S. MacMahon
Information from
Blake, Lee. "Jane Jackson Letters." Received by Ivy S. MacMahon, 24 May 2020.
Cruz, Carl. "Jane Jackson Circle GAR; (Ladies of the Grand Army of the Republic)." Received by Ivy S. MacMahon, 17 June 2020. 
Morrison-Reed, Mark D., editor. Darkening the Doorways: Black Trailblazers and Missed Opportunities in Unitarian Universalism. Skinner House, 2011.
Rock, Ellen. "Re: LGAR Inquiry." Received by Ivy S. MacMahon, 15 July 2020.
https://nbhistoricalsociety.org/wp-content/uploads/2022/12/NBHA-SUPER-SHARP.png
0
0
nbhsadmin
https://nbhistoricalsociety.org/wp-content/uploads/2022/12/NBHA-SUPER-SHARP.png
nbhsadmin
2021-10-25 20:54:52
2021-10-25 21:11:29
Jane Adora Major Jackson