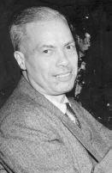 Alfred Gomes pioneered law and activism!
Alfred J. Gomes, born on June 14, 1897, was a Cape Verdean American Judge of prominence in New Bedford and the Boston area for much of the twentieth century. He was an attorney and activist. From the Cape Verdean Islands, he came to New Bedford, MA at the age of seven and was educated in the New Bedford Public Schools. He worked and financed his own college education and graduated from Boston University Law School in 1923 at a time when few Cape Verdeans completed elementary school. This accomplishment made him one of the first Cape Verdean-born Americans to receive a doctor of jurisprudence degree. Returning to New Bedford after graduation, he became one of the city's most important civic and community leaders. He was especially concerned with promoting the aspirations and betterment of the Cape Verdean people in this country and in his homeland. Through his leadership, he helped to establish various scholarships and awards, such as the Verdean Veterans Achievement Awards, the Memorial Scholarship Fund/The Seamen's Memorial Scholarship, to benefit Cape Verdean American youth.
Some of his most noteworthy activities and contributions include: serving as a member of the New Bedford Institute of Technology Board of Trustees, now known as the University of Massachusetts-Dartmouth; founding the Nantucket Lightship Memorial Scholarship Fund/The Seaman's Memorial Scholarship Fund which assisted many Cape Verdean-Americans to achieve their academic dreams; helping to establish the Verdean Veterans Achievements Awards; serving as a member of the Fall River Diocesan School committee, where he received the Marian Award for his works in charity; serving on the New Bedford Boys' Club Board of Directors for more than 40 years; and organizing the first Cape Verdean Boy Scout troop at the Cape Verdean Benefit Association. Gomes was an extremely successful fundraiser and philanthropist.
In 1935, as a memorial to the sinking of the USS Nantucket by the SS Olympic, the Cape Verdeans of New Bedford, Massachusetts, under the leadership of Alfred J. Gomes, a lawyer, created the Cape Verdean Memorial Scholarship Fund. In the early winter of 1936, the first essay contest was held and two prizes were awarded for the best essays submitted; each for $200.00. One of the first awards was given to provide initial tuition for the winners in any college of their choice. George Leighton, seeking to complete his education through a scholarship won one of the awards.  George Leighton went on to become an important Cape Verdean lawyer in his own right, litigating many cases involving the civil rights of U.S. citizens, especially people of color. The U.S. Post Office building in New Bedford was named after Judge Leighton in 2005. Alfred Gomes assisted many young men and women with scholarship aid throughout his career.
In 1942, he organized a Cape Verdean Relief Fund and succeeded in raising four thousand dollars for food and clothing for the needy, and in 1956 he helped to organize the Our Lady of Assumption Fund Drive. He also organized and promoted Cape Verdean models, instrumentalists, dancers and vocalists, presenting them in exhibits and festivals. He was a prolific historian and researcher of Cape Verdean history and culture. His life was one of dedication and service to his fellow citizens, with particular concern for the youth of New Bedford. Attorney Alfred J. Gomes died on November 7, 1974.
Reference:

The African American Desk Reference
Schomburg Center for research in Black Culture
Copyright 1999 The Stonesong Press Inc. and
The New York Public Library, John Wiley & Sons, Inc. Pub.
ISBN 0-471-23924-0