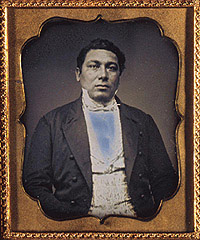 Amos Haskins (1816-1861) was a Wampanoag Indian of the Gay Head tribe who rose through the whaling industry to become a master mariner and is believed to have been one of few American Indians ever to have achieved that rank.
Born and raised in rural Rochester, Massachusetts, Haskins appears to have taken out his first seaman's protection papers in New Bedford at the age of eighteen. He may have shipped on coastal trading and other vessels immediately afterward, for he is not found among the crew of a whaling vessel until April 1841, when he signed as second mate of the Mattapoisett brig Chase.
The Chase was abandoned at sea a week later, but throughout the 1840s Haskins went whaling frequently, usually as second or first mate, on Mattapoisett whaling vessels—the brigs Annawan (1843-44) and Willis (1847-48), the ship Cachalot (1845-47), and the bark Elizabeth (1849-50). On 31 October 1844, between the voyages of the Annawan and Cachalot, Haskins married Elizabeth P. Farmer (1824-90), the African American daughter of the widow Dianna Farmer, who had lived in New Bedford at least as early as 1826. In that year Farmer was recorded as one of the founding members of the African Christian Church, the village's first church founded by and for people of color. Between 1846 and 1858 Amos and Elizabeth Haskins had five daughters—Margaret K., who married Charles F. Tilghman; Hannah F.; Caroline W., who married Thompson Hill); Mary L. E.; and Elizabeth R.
In 1851 Haskins attained his first command of a whaler with the Mattapoisett bark Massasoit, whose crew of 22 included 12 people of color, including its first, second, and third mates and three of its boat steerers. Haskins also was captain of the Massasoit on its 1852 whaling voyage in the Atlantic. In 1857 Haskins shipped out aboard the Mattapoisett bark Oscar, a four-year cruise to the North Pacific and his first beyond the Atlantic. Two years into the voyage the New Bedford Republican-Standard reported that Haskins had drowned and his body found near a San Francisco dock. A month later, though, the newspaper reported its mistake: Haskins had returned to his family in New Bedford. In retrospect the report seemed portentous: Haskins shipped out once more and died at sea in 1861. He is buried in a family plot in New Bedford's Rural Cemetery.