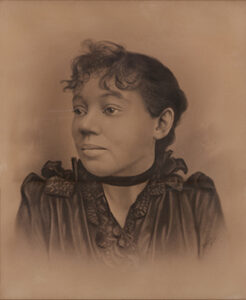 The daughter of Martha Webb, who had been enslaved on the plantation of President Tyler, Elizabeth Carter Brooks' passion for equality burned brightly throughout her life as an educator, architect and social activist.
After graduating from New Bedford High School, she entered the Swain Free School of Design and received a classical education in architecture and design, which served her well through her many ventures. Ms. Brooks was the first Black graduate of New Bedford's Harrington Normal School for Teachers.
Brook's first teaching job took her to Brooklyn where she helped organize colored women's clubs and, in 1896, she became the 4th president of the National Association of Colored Women's Clubs. After returning to New Bedford, she was the first African American woman hired as a public school teacher and taught for over 25 years at the Taylor School. Besides working with the young, she had a lifelong concern for the elderly. Making use of her many skills, including that of real estate developer, she founded the New Bedford Home for the Aged and designed the group's permanent home on Chancery Street, which opened in 1908.
Word of her organizing ability reached the War Council of the National board of the YWCA and she was asked to plan and supervise the building of the Phillis Wheatley YWCA, originally for colored women, in Washington, D.C. In 1930, she married Bishop Sampson Brooks and they moved to Texas.  Their marriage was short-lived as Bishop Sampson passed away four years later. After his death, she returned to New Bedford to continue her work, heading the regional and local branches of the NAACP and helping to preserve the Sergeant William H. Carney House. Additionally she organized the Elizabeth Carter Brooks Jr. Girls Club and met with young women on Friday afternoons to preserve the history of African American men and women. One of her Jr. Girls Club members fondly remembers meeting Mary McCloud Bethune at one of the meetings held at the home of Mrs. Brooks. She died in 1951 and the city honored her by naming the Elizabeth Carter Brooks School after her in 1957.