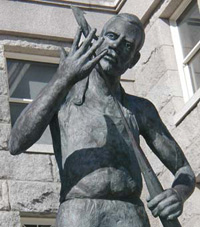 Lewis Temple (ca. 1800-1854) invented the toggle iron, the only tool to have revolutionized the whaling industry in the nineteenth century.
Temple was born in Richmond, Virginia, but whether he was enslaved or free at birth and at the time he left Richmond for New Bedford about 1829 is not known. On 20 June 1829 in New Bedford, he married Mary Clark of Baltimore, whose brother Archibald and sister Lucinda also ultimately settled in New Bedford with their spouses and children.
Upon Temple's arrival in New Bedford he began working as a blacksmith at Coffin's Wharf at the foot of Walnut Street, where he worked until the last year of his life. In 1834 he was elected vice president of New Bedford Union Society, the village's first antislavery society and one of the black auxiliaries to the Massachusetts Anti-Slavery Society, founded a year earlier.
In his Walnut Street shop in 1848 Temple invented what is now known as the Temple toggle iron. Earlier "irons," or harpoons, once sunk into a whale's flesh, often tended to work themselves loose in the fury of the fight, but the Temple iron had a pivoting head so that the point would turn once the harpoon struck and embed itself more securely. The device, which Temple never patented, improved the success of whaling hunt immeasurably and must have inspired the New Bedford firm Delano and Pierce to build Temple a new shop at the foot of School Street in 1854. Temple, however, never worked in the new shop, itself never completed because of the accident which caused his death that year. In the fall of 1853 Temple was seriously injured in a fall from a plank placed over an open sewer trench. In late March 1854 the city approved the payment, but Temple died about six weeks later. His personal estate was valued at $2459.75, $2000 of which was owed his widow by the city; it was finally paid, with interest, in February 1857.
A monument to Temple-which, because no likeness of him exists is based on a photograph of his son, Lewis Temple Jr.-stands in front of New Bedford Free Public Library on Pleasant Street in New Bedford, and Temple toggle harpoons are in the collection of the New Bedford Whaling Museum.